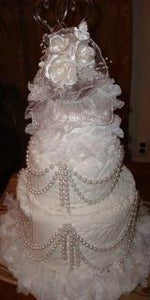 Beautiful Towel Cake in any color mimicking a tier Wedding Cake!!
Ingredients:
(3-5) Large Bath Towels (Depending Tier Levels)
(3-4) Medium Hand Towels (Depending Tier Levels)
(2-3) Small Washcloths (Depending Tier Levels
Decorative Accessories
Wrapped in White Tulle
Any Color Towels (Must be specified in Note-to-Seller section at checkout)
Please note these items are custom and made to order.
Custom item may not be identical to picture due to seasonal and available materials at time of order, however will match according to gender and requested accessories.