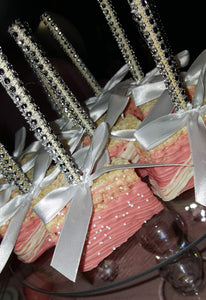 The perfect mix of sweet Rice Krispies covered in premium chocolate. Chocolate can be in any color chocolate.
Delicious creamy chocolate over a sweet Rice Krispies ...perfection! 
Sold by the Dozen (12 Qty)
Packaging:
By default, apples are individually wrapped and furnished with regular sticks and clear cellophane bags w/ twist tie. 
Alternate sticks available at checkout for additional costs.
Chocolate Options:
Milk Chocolate 
White Chocolate
Your desired chocolate color not shown here, specify color in the "Notes" section at checkout.
Finishing:
For special finishing embellishments such as Pearls, Sprinkles and/or Drizzle), specify in detail in the "Notes"section at checkout.